Worship Schedule
Labor Day Weekend – Memorial Day Weekend
8:15 AM
Sunday School/Bible Study
9:30 AM
Worship with Holy Communion
Followed by fellowship time
The Adult Vocal Choir and Handbell Choir provides special music
Guests are always welcome.
Worship Schedule
Memorial Day Weekend – Labor Day Weekend*
8:00 AM
Worship in the Ireland Chapel overlooking the Lake
Followed by fellowship time
10:00 AM
Worship inside in our beautiful sanctuary
Guests are always welcome.
* Holy Communion is celebrated inside on the 1st, 3rd & 5th Sundays; outside on the 2nd & 4th Sundays
Small Groups
Ladies Bible Study
Wednesdays at 9:00 AM
Men's Fellowship
Thursdays at 8:00 AM
Women of the ELCA (WELCA)
1st Tuesday of each month
Business meeting at 11:00 AM
Events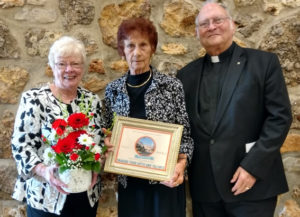 Congratulations, Shirley Clark, Good & Faithful Servant to Kent Memorial
(Pictured from left: Melba Bangert, Council President, Shirley Clark, Rev. Carl Gauck)
Kent Memorial Lutheran Church – Sunrise Beach, MO – Lake of the Ozarks
Kent Memorial is a vibrant and active member of the community on the west side of Lake of the Ozarks in central Missouri. Located in Sunrise Beach, our members reach out to the community in many ways: volunteering at two local elementary schools; providing Buddy Packs of food so children don't go hungry over the weekend or over the summer; making stuffed animals and knitted hats and booties for the area hospital; and supporting two local food pantries and thrift stores, a homeless shelter and the area shelter for abused women and children, to name just a few.
Started in 1951 as a mission church of the Kansas Synod of The United Lutheran Church, Kent Memorial is now a church of the Evangelical Lutheran Church in America. The original church building, dedicated on April 27, 1952, and was named in honor of Kent Zimmerman, 12 years old, who died in the fire that destroyed his family's home on this site in February 1949.
The growth of the congregation required additional space, and in 1980, the fellowship hall was enlarged. In 2005, the new sanctuary was built and the fellowship hall again enlarged. The original stained glass can be seen in the Gathering Area. In 1993, the Ireland Memorial Outdoor Chapel was added, in which an early morning service is held during the summer months. It faces the lake in a most inspiring setting with a tree being used to form the cross.
The history of Kent Memorial Lutheran Church is still being written. We trust that we will remain faithful to our mission and calling: "To Share Jesus With All".