About Kent Memorial
Kent Memorial Lutheran Church is a vibrant and active member of the community on the west side of Lake of the Ozarks in central Missouri. Located in Sunrise Beach, our members reach out to the community in many ways: volunteering at two local elementary schools; providing Buddy Packs of food so children don't go hungry over the weekend or over the summer; making stuffed animals and knitted hats and booties for the area hospital; and supporting two local food pantries and thrift stores, a homeless shelter and the area shelter for abused women and children, to name just a few.
Started in 1951 as a mission church of the Kansas Synod of The United Lutheran Church, Kent Memorial is a congregation of the Evangelical Lutheran Church in America. The original church building was dedicated on April 27, 1952, and named in honor of Kent Zimmerman, 12 years old, who died in the fire that destroyed his family's home on this site in February, 1949.
Growth of the congregation required additional space, and in 1980, the fellowship hall was enlarged. In 2005, the new sanctuary was built and the fellowship hall again enlarged. The original stained glass can be seen in the Gathering Area. In 1993, the Ireland Memorial Outdoor Chapel was added, in which an early morning service is held during the summer months. It faces the lake in a most inspiring setting for worship.
The history of Kent Memorial Lutheran Church is still being written. We trust that we will remain faithful to our mission:
Hearing God's Call and Responding in Love,
We Share Jesus With All!
office@KentMemorial.com
(573) 374-5267
WHO WE ARE / WHO IS THE ELCA?
Kent Memorial Lutheran Church is a congregation of Evangelical Lutheran Church of America (ELCA).
"Welcome to the Evangelical Lutheran Church in America (ELCA). The ELCA is a church of about 4 million members who actively participate in God's work in the world. We believe that we are freed in Christ to serve and love our neighbor. With our hands, we do God's work of restoring and reconciling communities in Jesus Christ's name throughout the world….
"The ELCA confesses the Triune God — Father, Son, and Holy Spirit. We proclaim Jesus Christ as Lord and Savior. In our preaching and teaching the ELCA trusts the Gospel as the power of God for the salvation of all who believe…
"ELCA congregations are centers for evangelical mission, where people of faith celebrate, learn and connect with one another and others around the world through service and weekly worship. We are a church that belongs to Christ. There is a place for you among our nearly 10,000 congregations across the United States, Puerto Rico and the U.S. Virgin Islands. We are the church that shares a living, daring confidence in God's grace. For us as the ELCA, this faith comes through the good news of Jesus Christ and gives us the freedom and the courage to wonder, discover and boldly participate in what God is up to in the world."
This is Christ's church.
There is a place for you here.
STAFF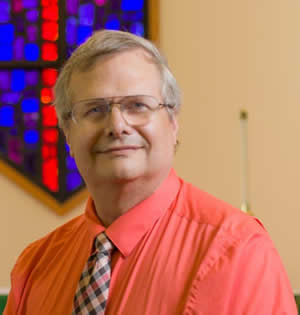 Pastor – The Reverend Edward L. Foster
The Reverend Edward L. Foster joined Kent Memorial and gave his first sermon on September 6, 2020. Pastor Ed was born and raised in Colorado Springs, Colorado. He graduated from Bethany College in Lindsborg, Kansas, with a Psychology degree, and received his master's degree from Luther Seminary in St. Paul MN. Pastor Ed's wife, Mary, is a special education teacher. Their son, Sam, is attending Bethany College.
Pastor Ed enjoys the traditional style of ELCA worship and especially Christian Education. He says, "Christian Education is not only an important part of our ministry in the church, but it is also, I believe, one of the most enjoyable." Pastor has always been very involved in ministering to the communities he serves. He has organized volunteers for local agencies, Habitat for Humanity, and has established a distribution point for a local food pantry. "I believe the best Social Ministry occurs when we are passionate about the issues and the people affected. Being open to the Spirit's leading and discovering where our passion and our neighbor's need intersect, makes for social ministry that changes the lives of those who are served and those who are serving".
Pastor Ed "believes he has been called to the ministry of word and sacrament in order to proclaim, teach and live out the grace and love of God in Jesus Christ in all of its wonder, audacity and complexity."
---
Secretary – Tracy Garrett
office@KentMemorial.com
(573) 374-5267
Tracy joined the staff in 2010 as secretary. Originally from southern Illinois, Tracy grew up in a Lutheran church. After more than twenty-five years in Texas, Tennessee and Michigan, Tracy and husband Dan moved to the Lake area. She is the director of the Greater Lake Area Chorale, a soloist around the area and is a published romance author. Tracy also serves Kent Memorial as the Director of the adult choir and the Coordinator of Worship and Artistic Ministries.
---
Custodian – Gail Kruse
---
President, Church Council – Kathy Fair
MUSICIANS
Tracy Garrett, Coordinator of Worship & Artistic Ministries, Director of Adult Vocal Choir
Katie Heaford, Director of Handbell Choir
Vanessa Hebrank, Pianist
Margo Strothmann, Organist/Pianist
Joyce Wanamaker, Organist/Pianist
RESOURCES
Worship Schedule
September-May
9:00 AM Sunday School/Adult Bible Study
10:00 AM Worship with Holy Communion
June-August
8:00 AM  Worship* outdoors in the Ireland Chapel overlooking the Lake
9:00 AM  Fellowship time
10:00 AM  Worship* indoors in our beautiful Sanctuary
*Holy Communion is celebrated inside on the 1st, 3rd & 5th Sundays; outside on the 2nd & 4th Sundays